Outcome-driven procurement and delivery
Strategic mindset. Responsible approach.
Clear Futures is a partnership between Eastbourne and Lewes Councils and strategic delivery partners AECOM and Robertson. We connect our people with yours to share and leverage built environment and public sector expertise, unlock projects into delivery and achieve long-term impact.
Inflexibility and locked into contracts – why Eastbourne and Lewes Councils set up an alternative to traditional procurement vehicles.
Established in 2017 our approach then, and now, is helping you develop and deliver the projects and services that will enhance and reshape public services and infrastructure, and build healthy and sustainable communities and economies. Which includes making a difference beyond the buildings and services we help deliver.
Make more impact through added social value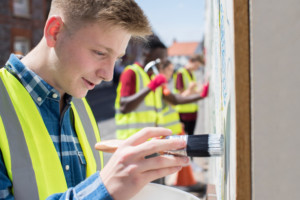 Why partner with Clear Futures?
We believe that through the power of partnership, public sector bodies can overcome the issues and constraints that prevent progress towards sustainable development and services, and positive economic, societal and environmental impact.
Choice and flexibility​, and you remain in control.
Expertise as and when you need it​.
More local, aggregated outcomes​.
Core focus on energy and sustainability​.
Transition to wellbeing economy​.
Accessible to central government, local authorities, LEPs, health, defence, education, universities and third sector.
A 25-30 year, OJEU compliant procurement and delivery framework with a £50bn threshold.
Open book approach.
Local and national supply chains to meet the specific needs of each partnership.
Diverse scope of projects and services across the built environment.
Stability, agility and cost certainty – a few reasons why our strategic partnership is working for Bolton Council.